How have they kept the awesome revelations from Bucegi Mountain so secret?
Cosmic Convergence Research Group
CCRG Editor's Note
Truly, if ever there was a story that could liberate humankind from its incarcerated past, the otherworldly intra-mountain complex and tunnel system in the BUCEGI MOUNTAINS is it.
The very few, yet stunning, disclosures which have thus far been leaked about this vast storehouse of ultra-secret Earth history, applied extraterrestrial technology and highly advanced scientific knowledge are nothing short of paradigm-shattering.  As in every paradigm currently operating on Planet Earth … bar none!
Dear Reader and Seeker of the Truth, if you read one story today, or this week, or this month, let this be the one.  Although it is a lengthy discourse, it is the product of years of authoritative research and serious investigation.  The author has done humanity an extraordinary service in this labor of love.  He, she or they have painstakingly constructed a cogent and compelling case for the direct Ancient Alien involvement in the affairs of human civilizations over millennia.
While many have known this to be the case from so much convincing evidence scattered across the planet, the 'highly classified' information coming from Bucegi serves as indisputable confirmation.  In short, this preordained discovery in the Bucegi Mountains has set the world up for an unparalleled and sweeping transformation.
Now that may sound like hyperbole.  However, in light of the empowering knowledge and revolutionary information coming from the Bucegi Complex, the current race of humanity will undoubtedly experience the most profound and fundamental shift in consciousness in recorded history.
In other words … this is it!  Bucegi Mountian is quite likely one of the key locations that Edgar Cayce spoke of when he referred to the legendary Hall of Records.  In addition to the Hall of Records in Egypt Cayce was clear about multiple underground chambers and complexes located in sacred lands around the globe.  The holy mountains of Tibet, the Mayan temples and the Great Pyramids of Giza (including the Sphinx) have been mentioned in various prophecies and predictions.
The CCRG has taken the unusual liberty of posting the great work posted by the folks at Hidden From Humanity.  We have done so, first and foremost, in an effort to preserve this priceless research project.  The following material is so sensitive and so "radioactive" that it is vulnerable to being disappeared one day … without a trace.
Cosmic Convergence Research Group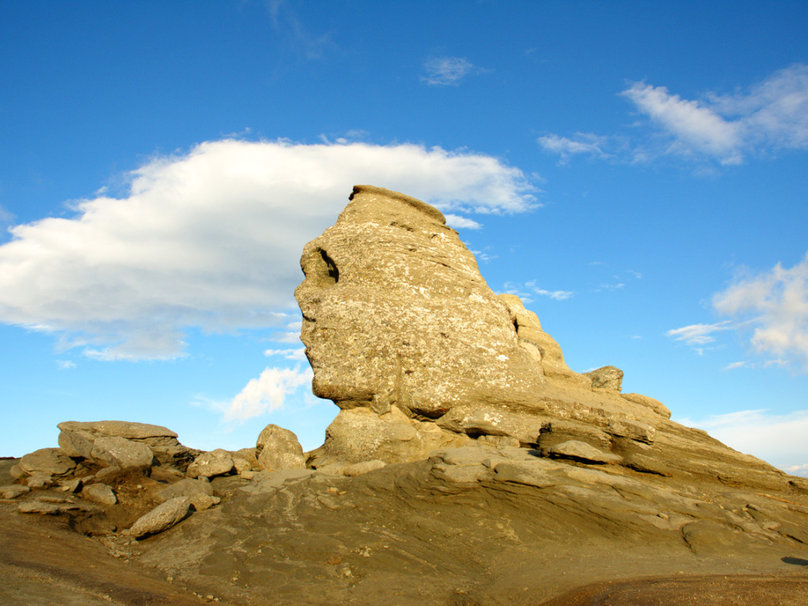 The Great Bucegi Sphinx in the Bucegi Mountains aka the Romanian Sphinx and the Carpathian Sphinx.
Read more: