Washington, D.C. Fox affiliate WTTG-TV reporter Emily Miller posted to Twitter Wednesday night an internal police memo on four suspicious bearded men seen at the Pentagon on Sunday.
Miller said the memo from the Metro Transit Police was leaked to her by a source who thought the public should know.
Photos of the men walking in the Pentagon Metro Station shows them each having beards and appearing to be Middle Eastern.

Miller comments they are over-dressed for the warm weather that day.
Emily Miller Retweeted Metro Transit Police
Now DC Metro police say the men in the BOLO were found and have no "nexus to criminal activity."
Emily Miller added,
"This is an internal metro #BOLO that I got from a source who thinks it should be public."
This is scary: Be On The Lookout alert for these men on DC metro at Pentagon. Note it was a warm on Sunday.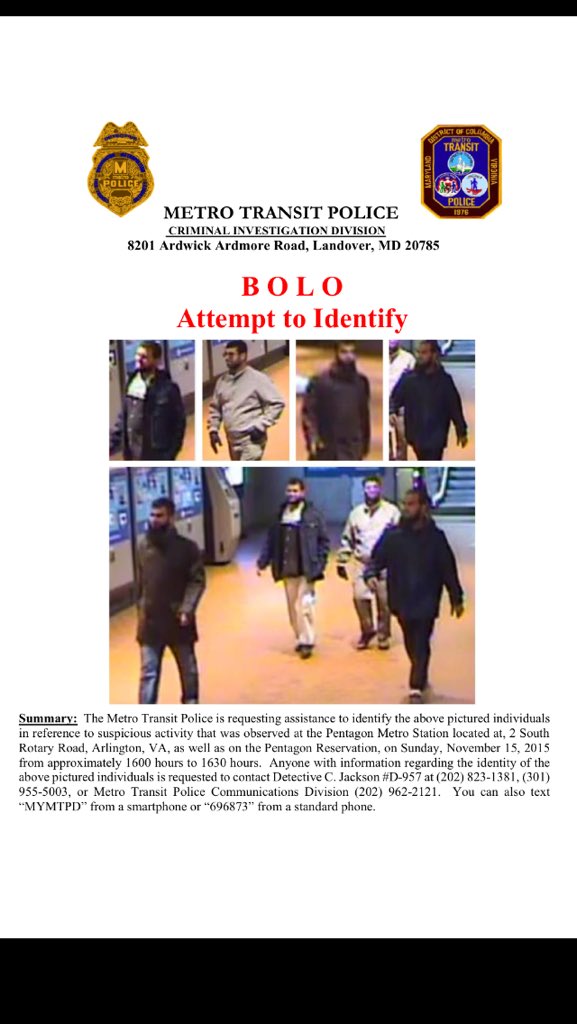 "This is scary: Be On The Lookout alert for these men on DC metro at Pentagon. Note it was a warm on Sunday."
The text of the memo reads:
"Summary: the Metro Transit Police is requesting assistance to identify the above pictured individuals in reference to suspicious activity that was observed at the Pentagon Metro Station located at, 2 South Rotary Road, Arlington, VA, as well as on the Pentagon Reservation on Sunday, November 15, 2015 from approximately 1600 to 1630 hours. Anyone with information regarding the identity of the above pictured individuals is requested to contact Detective C. Jackson #D-957 at (202) 823-1381, (301) 955-5003, or Metro Transit Police Communications Division (202) 962-2121. You can also text: "MYMTPD" from a smartphone or"696873″ from a standard phone."
The Pentagon Reservation is described in a military posting of rules of conduct.
"Pentagon Reservation. Area of land and improvements thereon, located in Arlington, Virginia, on which the Pentagon Office Building, Federal Building Number 2, the Pentagon heating and sewage treatment plants, and other related facilities are located. Pursuant to 10 U.S.C. 674, the Pentagon Reservation also includes the area of land known as Raven Rock Mountain Complex (RRMC), located in Adams County, Pennsylvania, and Site C, which is located in Washington County, Maryland, and other related facilities. The Pentagon Reservation shall include all roadways, walkways, waterways, and all areas designated for the parking of vehicles."
Metro Transit Police posted a response on Twitter late Wednesday night.